RF-V8S Description:
Super mini GPS device
The smallest
GPS tracker
& SOS communicator in the world, you may have it!
size40*34*15mm weight: only 24g
With lanyard, battery inside, longtime standby and free installation
Positioning fast & accurate
Positioning chip: GPS SiRf Star IV
Positioning accuracy: 5-15meters (under the open sky)
Positioning speed: 30sec cold boot positioning
Perfect chip
Invisible chip, perfect design
Omnidirectional ceramics 15*15GPS antenna
High integrated mini motherboard
GPS with the latest AGPS assist global position systerm
30sec cold boot positioning
V8S could automatically switch between GPS and LBS
No matter in the room or in the outdoor, no matter how the weather like, V8S could positioning fast and accurate
Screen-free and battery with high capacitance
Remove all the unnecessary functions
Without screen which is a waste of energy
Without mp4/mp4, without webcam
Just keep effective functions of tracking and communicating
Battery with high capacitance, standby time could be 12 days.
Powerful inquiry platform application
,
Inquiry platform
www.gps123.org
, APP tracking, wechat tracking, SMS tracking
Positioning tracking in all domains
Tracking as you will!
Wechat tracking
Add the wechat number , burglar-proof positioning assistant
Smart phone tracking
Go to Apple APP store, search trackanywhere or go to website
www.gps123.org
, and then scan QR-code, download APP client
Inquiry via SMS message
Master-control number send message dw#, V8S would reply the current position & map link
Computer tracking
Enter ReachFar's platform
www.gps123.org
Burglar-proof function
The sole mini GPS device with anti-theft alarm in the world,
With vibrating sensor & sound sensor burglar alarm inside
Real-time monitoring the safety of car & property, guard property from violation
What? Your car's wheels have been stolen when you get up?
Glasses have been hit? Trunk has been stolen either?
There are 4 levels of sensitivity for various properties' safety
Level 1 is the most sensitive, alarm would ring while the car be beat.
Level 2, alarm would ring while the device sense twice beating in two minutes.
Level 3, alarm would ring while the device sense five-times beating in five minutes.
Level 4, alarm would ring while the device has been moved 10 meters per sec.
Users could select various lever of sensitive according to various situations.
Sound sense:
Alarm would ring, when the device monitor the sound of surroundings over 45Db. This device applies to warehouse & valuable property.
Ask for help in silence
Just a press, burglar alarm would work
Responding to emergency immediately
The special concave SOS button easy to press
Click the S button for help in silence & covert, meanwhile, guarantee help seeker's own safty.
Please press the S button when confronted with danger, then all the SOS numbers will receive SMS messages link with current loaction
And after that rapid-dialing to the binding 5 numbers by this communicator until someone pick up the phone
Remote listening function
All you wanna know is under your contro
With high acoustic fidelity, all the situations of your car and property controlled by you at anytime
Low battery charge alert, longtime standby
Worry about battery life? There is no need to worry about this, because
When the battery life is less than 10%, the tracker will send SMS message to the master-control phone number
with 10% battery life, the standby time is 2 hours, you could make a call within 2 minutes.
SIM-changing alert
Safety & no troubles
When the SIM card is changed the tracker will send SMS message to the master-control phone number

RF-V8S specifications:
Brand: ReachFar
Model:
RF-V8S
GSM network: quad band, universal
GPS Positioning accuracy: 10-15m (under the open sky0
Host size: 40(length)x34(width) x14(height)mm
Host weight: 24g
Standby time: 12days
Vibrating sensor burglar alarm: Yes
Sound sensor burglar alarm: Yes
Built-in battery: Yes
Low battery charge alert: Yes
Powered off alert: Yes
Displacement alert: Yes
SOS alert: Yes
Geo-fence alert: Yes
RF-V8S Packing:
1* Host
1* Wall charger
1* USB cable
1* User manual
Typical case:
Case 1:
lately,Mrs Lu drived an audi car came to a Neighborhoods gate, and parked it on the side of road ,then enter into a store. She was shocked and found her car was stolen when she came out.She called police for help immediately.But the place is remote and people is less,even no Video Monitoring;and the thief is professional and left no trace,the investigation is diffcult.Fortunately, Mrs lu put a
RF-V8S
device in the car,the police locked the position of the car xia RF-V8 and catch the thief quickly.Mrs lu got and found
RF-V8S
had sent a warning messagge to her phone which had left in the car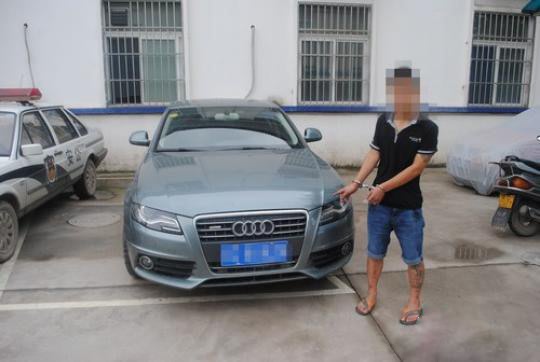 Case 2:
Mr liang is a business man. Not long ago,he drived the car to deliver goods. Due to the parking lot is full,he had to park his car on the side of the road.Suddenly his mobile received a vibration alarm message of car when he talked with customer.He run to his car at once, and saw a thief smashing the car glass. He yelled stop thief and called the police. With the help of the people,Mr liang graps the thief and await for the police to arrest the thief. Mr liang said that it's lucky to stop the thievery owing to use the
RF-V8S
, or the cash and the valubles in the car will be stolen.
Case 3:
Huanhuan is four years old ,a kindergarten student, and he very like the kindergarten live.But recently his parent find his abnormal. He will cry and scream ,even fear when mention to go to kindergarten.Appeared this case,the parent feel it's abnormal.Even a child would not like to kindergarten, also not to the point of so afraidl.No matter how you ask ,chunchun don't say anything beside said don't want to go to the kindergarten.What children suffered in kindergarten, parents also wonder.Eventually,Eventually, chun chun's father find a way , bought a RF - V8S , and told haun haun to press the button when he was not happy or someone bully him .One day, his father suddenly received chun chun the distress call, dad answered immediately, to hear the cries of the haun haun and teacher's scolding , which makes the father was shocked, and just know reason of chun chun don't like kindergarten is beat and scold by the teacher. Huanhuan's father record the voice and hand it to police.Throgh the police investigation and intervention, the teacher got punishment and be fired .
chun chun's father said they will never know what child encountered in school without the One key silent type for help function of
RF-V8S
, and the teacher who beat and scold the child as a devil will not get legal punishment